Change
Current Location:
SW1W 8EL
Jane, Sonic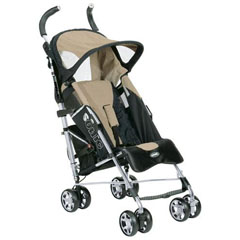 RRP: £129.99
Weight: 5.5kg
Folded cm: 97h x 25w x 24d
Included: Hood and raincover

The Jane (pronounced Hannay) Sonic is a really compact stroller with a special patented system which reduces the height of the stroller by automatically retracting the rear wheels when folding. It has also repositioned the handbrake just below the stoller's handle so at the flick of a switch you can activate both rear brakes. This means that mums with flip flops aren't going to go braking their nails on a brake bar (this had been a major complaint).
The Jane Sonic also has a stand to allow you to stand the pushcair when folded - which is perfect for storing in shops, museums or in the front hall etc. It has heigh-adjustable handles with soft foam covering - perfect for colder winter mornings.
Reviews
Reviews in chronological order (Total 1 comments)
Rating: 10.0 / 10

vee, Mother of 2, Cheshire. Nana of one, with another on the way.


8 Mar 2010 11:05am


This is a great little lightweight stroller for popping in the boot, and should fit well in most due to the retracting rear wheels. Great for shopping trips, travelling, days out and holidays. The high-up break is a great improvement on other brake systems. It only has a small shopping basket but this is a small lilghtweight buggy, and we use it as a second pushchair when we don't need to take the big bulky one with us. Our little one loves the rain cover with the opening window - far more convenient than having to remove the whole raincover to retrieve a missing dummy or teddy. When in the upright position it is still slightly reclined, but this doesn't seem to cause any problems, and looks very comfortable. It doesn't recline completely flat but our little monkey sleeps quite well in it. Brilliant little stroller and very stylish too!