Change
Current Location:
SW1W 8EL
Chicco, Skipp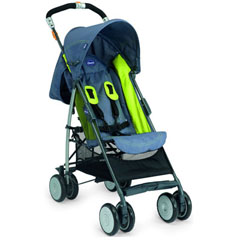 RRP: £89.99
Weight: 6.2kg
Folded cm: 88h x
Extras: Raincover, shopping basket

Skip stroller has a modern, lightweight feel to the design. It is easy to fold and carry thanks to aluminium frame and carry handle. It also has an exclusive standing leg which means you can stand the pushchair up without having to lean/wedge it between furniture. It has a wide seat and high backrest that can be adjusted to various positions provide extra comfort for infants.
The Skip's single handle with "soft touch" handgrip makes the Skipp really easy and effortless to push, even in tight spaces. It comes with a full-cover rain hood and a practical shopping basket. Suitable from 6 months+.
Reviews
Reviews in chronological order (Total 4 comments)