Change
Current Location:
SW1W 8EL
Baby Bjorn, Active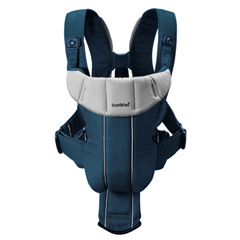 RRP: £60.00
Suitable for age: Newborns to 12 kg
Textile : Oeko-Tex Standard 100. Class certification

This is a sturdy, comfortable baby carrier designed to carry heavier children for longer periods of time. The comfortable lumbar support and the wide, padded shoulder straps provides an even weight distribution. The baby carrier provides excellent support for your little child's back and head, making sure his/her legs and arms are in a physiologically correct position. When your child is a little older, the neck-rest can be folded down so the child can face forwards and look around. It is machine washable.
Reviews
Be the first person to review this product, just add a review below.