Change
Current Location:
SW1W 8EL
Silver Cross, Ventura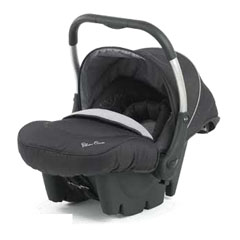 RRP: £115.00
Weight: 3.8kg
Group 0+: 0-12mths

This Silver Cross Ventura is the only car seat suitable from birth from this manufacturer and it fits with the chassis of the following Silver Cross pushchairs; Freeway, 3D, Halo, Sleepovers. It is rearfacing only and fits easily into most car models using the adult seatbelt, and comes with a baby head hugger, apron, padded harness as well as nicely padded side-protection.
Reviews
Reviews in chronological order (Total 1 comments)
Rating: 10.0 / 10

SallyB69, Mother of 2, Norfolk


19 Jul 2011 9:34am


I would buy this again if needed. I have two boys, one 4 years old and the other is now 11 weeks old. Both of my boys have used this carrier and although there is a few years between them the carrier has stood the test of time. I also still get great comments about it's look and design. It is robust giving you reassurance that your child will be safe. It is practical and most elements can be detached and washed. Having had to have got this out again to use for my second son I remembered how easy it is to fit in to the car. It comes with hood, apron and head hugger, all of which keep your baby protected from the elements but also give you space to put in additional blankets in colder weather. I bought mine to go on the Linear Freeway pram/pushchair and this compliments the travel system well. It is easy to clip in and detach from the wheels giving an audible click when attached to the wheels correctly. Without a doubt I would buy this carrier again but having already brought one and being so well built I didn't need to second time around.