Change
Current Location:
SW1W 8EL
Mamas and Papas, Primo Viaggio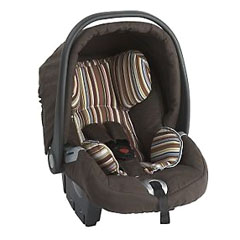 RRP: £165.00
Weight: 3.8kg
Group 0+: 0-15mths
Child weight: 0-13kg

This versatile car seat has a one-pull safety harness, which means that it tensions easily around the child adjusting around whatever clothing. The car seat can also be attached to a number of Mamas and Papas pushchairs to create a travel system (£20 adaptors). For fixing in your car there are three fitting options:
Secure with car seat belt
Click on to an ISOFIX base (£149) - ISOFIX bases can be used with all stage car seats so is a good investment if you car has the ISOFIX points.
Reviews
Reviews in chronological order (Total 2 comments)
Rating: 7.5 / 10

Hana, Mother of 1


12 Nov 2011 2:32pm




Mamas and Papas Primo Viaggio car seat is ok. I only like it from birth to about 4 months. Straps are difficult to manoeuvre. Quite a pricey investment, looking for a new car seat that will last a longer now.

Rating: 10.0 / 10

Kayleigh_Tumber, Mother of 4, Essex


6 Nov 2011 11:53pm


LOVE LOVE LOVE this the design is beautiful for either boy or girl the padding is briliant and my son looks comfty when he is asleep in it too.