Change
Current Location:
SW1W 8EL
Arianna, Baby-Vac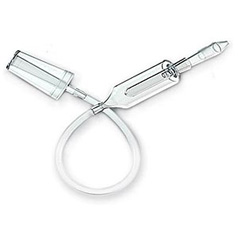 RRP: £17.99
Visit Website

A running nose for babies and toddlers is very common. The Baby-Vac tackles this problem by removing the mucus from the babies nose by using the suction of a hoover.

The Aspirator end fits into most vacuum cleaner hoses, and can be easily cleaned after use.
Reviews
Reviews in chronological order (Total 2 comments)
Rating: 8.0 / 10

gmb23, Mother of 3, Cheshire


6 Jan 2011 9:31pm


A hoover? I couldn't get my head round that and have delayed using this device up till recently. When my son (11 months) had the now very familiar "pipes" hanging from his nose again I decided to bite the bullet and use this. Well it certainly does the job! Once you can get over the whole "hoover thing" it is a great little device for snotty noses. As previous post it does have potential for grabbing and pulling but my baby thought it was a game, and once I managed to secure the tube into his nostril it was easy- peasy! Very effective though have to obviously get the hoover out so not a quick "fix" for a snotty nose, would definitely benefit from the inclusion of a manual option. Easy to clean yes all in all, I would recommend

Rating: 10.0 / 10

tulips, Wales


6 Dec 2010 9:51pm


What on earth.... was pretty much my initial reaction, whilst reading the instructions for this device! I have to attach to a vacuum to suck snot out of my baby's nose!! Hmmm, I was doubtful, but, oh my gosh this is brilliant. Of course checked how strong it would be on my skin first, it's a nice gently suction, apparently the device ensures the suction is regulated. It is very easy to use, just stick on end into the vac hose and aim at nose! Archie (6.5 months old), thought this was a game I think as he would try to grab the tube, but as soon as I got it near his snotty nose, starting to clear away the mucus, he loved it, flaring his nostrils and smiling. Only downside I suppose is that you have to get the vacuum out, so maybe have a mouth suction version as well for evening mucus clearing or when away, don't want to wake another child etc.