Change
Current Location:
SW1W 8EL
Stokke, Sleepi cot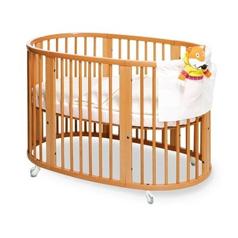 RRP: £550.00
Age range: birth to 10 years approx
Dimensions: vary as your child grows
Visit Website

It wouldn't be Stokke if it wasn't an ingenious new design… The Sleepi is one of the smartest cot options around. Comforting even to look at, it's a beautiful oval crib in its Mini setting for the smallest babies, but gradually opens up until it turns into a curved-ended bed that's suitable for much older children. Easy to clean and simple to switch when you do want to make the frame bigger, it's a very clever urban cot that would look great in any bedroom.
Reviews
Be the first person to review this product, just add a review below.