Change
Current Location:
SW1W 8EL
Mamas and Papas, Pebble cot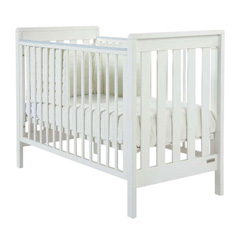 RRP: £150.00
Age range:: birth to 2 years approx
Dimensions:: L 129cm x W 66cm x H 96cm

Mamas and Papas have an incredible range of cots and cot beds. Many are available as part of wider bedroom furniture ranges if you choose to create the whole look, but all can be bought separately, too.
The Pebble is a new cot for Mamas and Papas and with its modern lines (it comes in white or natural rubberwood, with a smooth finish) it's a light option that's great value at £150 and that's slightly smaller than many cots, to fit into any contemporary home where space is at a premium.
It features two teething rails and has three height positions for the mattress base to adjust to.
Reviews
Be the first person to review this product, just add a review below.