Change
Current Location:
SW1W 8EL
Babymule, Changing Bag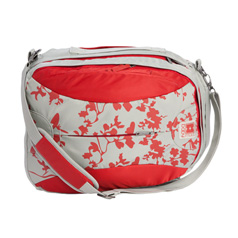 RRP: £75.00

Babymule is the first ever truly interchangeable baby changing bag; switching effortlessly from stylish Messenger Bag to supportive Backpack. All its components can be tucked and zipped away so it changes completely to suit your needs. With hideaway buggy clips for extra freedom.
Its size and accessories make it the perfect day bag, ideal for short trips out, great for rambles in the outdoors, a fantastic tool for long haul flights, and well suited to city, countryside, mothers, fathers, grandparents and carers. It is packed with the essential components to make for an easy day out with your little ones.
Not just for newborns, the Babymule baby changing bag continues to excel through toddlerdom and with the pitter patter of more tiny feet!
Features include:
22 litre capacity
2 main compartments
Structured storage areas within the bag
Security zippered pockets inside
External pockets for quick access
Handy grab handles
Water resistant fabric
Bright contrast lining
Unisex design - available in grey/red and black
Changing pouch for nappies and wipes
Padded wipe clean mat
Reviews
Reviews in chronological order (Total 2 comments)
Rating: 10.0 / 10

Slummymummy17, Mother of 2


3 May 2011 4:20pm


Totally adore this bag. Bought it as I prefer a messenger bag but sometimes struggle with two under three, and need to be hands free - but am now a backpack convert. It is so easy to use, and I love the freedom it gives me to run around after two monkeys. I love the way the changing pouch converts to a cool bag once potty training is over. Lots of great pockets and pouches so that I can always find what I am looking for - a new experience for me - and seems to fit loads in it. (Two changes of clothes, nappies, extra wipes, hats, suntanlotion, emergency medical kit, drawing pads and crayons, snack box etc plus all my stuff - you know the drill.) Buggy clips are really easy to use and it hangs beautifully on my double buggy and my little stroller. Was great on a recent long haul flight. Can't recommend enough.

Rating: 10.0 / 10

mummyov4, Mother of 4, Merseyside


18 Feb 2011 2:09pm


oh my word this bag is fab not only has this fab patten theres secret pockets evey were =-D theres a changeing mat in a little bag you can pull out wich you can also use the little bag to store baby food in at the frount there is a zip and in side theres another little bag 2 stick the bay bottle in .. very cleaverly hiden at the back of the bag in a zip are padded straps that pull ou of the top and the bottem with an extra added zip on one of the straps for more storege and it converts into a back pack =-D ! insdie the bag theres lots of room to fit eveythink u need for baby includeing an extra blanket =-D its a fantastic bag and well worth a look! and its lvly padded for comfet when turned into a back pack to for your back thanks babydirectory for this bag it wont ever stop geting used !! =-D xx