Huggies, New Nappies for Newborns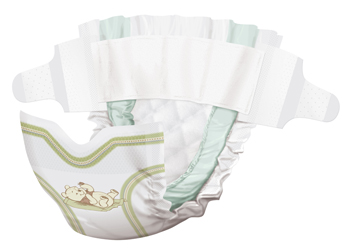 RRP: £3.71

Innovative new design helps protect your baby from infection whilst their belly buttons heal.
This new design features a cut-out shape that prevents the build up of bacteria around this delicate area by allowing air to circulate. Current advice suggests to parents that nappies should be folded down to prevent the top rubbing against the navel, however with this new and wonderfully simple idea such a process is no longer necessary.
Huggies found that during initial tests, seven out of ten parents who tested the nappies commented that their baby's belly button healed quickly and without any infection.
The nappies also feature a stretchy waistband and an absorbent system that draws moisture away from delicate skin.
With 27 nappies for £3.71, these nappies are great value for money and are starting to hit the shops, they will be widely available by the end of the summer.