Change
Current Location:
SW1W 8EL
herpatch, Cold Sore Prevention Stick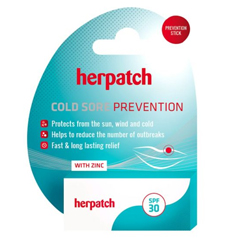 RRP: £4.99

The Herpatch Cold Sore Prevention Stick with zinc, protects your lips from the elements - the sun, wind and cold. it helps to reduce the number of outbreaks, giving you fast and long lasting relief from unsightly cold sores.
Reviews
Reviews in chronological order (Total 1 comments)
Rating: 8.0 / 10

lilliesmum


7 May 2015 5:20pm


I have suffered from cold sores in the past, which usually come about after I am ill. I recently suffered from a virus, which left me feeling quite run down and so I thought I would use this stick in the hope that it would stop me from having an outbreak! I generally use lip balms quite a lot - think I am a bit of an addict!- so it wasn't difficult to keep applying this stick. It had quite a pleasant smell, slight vanilli - and did hydrate my lips. It wasn't glossy at all though, or coloured, so I used my own gloss after applying this. I didn't suffer an outbreak, which I'm not sure is whether I used this stick or not, but I will continue to use it now and again in the hope that it is preventing any further outbreaks! I also like the fact that it has a 30spf, which is quite good as summer is approaching.