Proactive, Proactiv Introductory Core Kit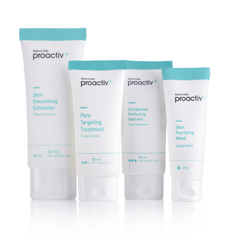 RRP: £19.99
Visit Website

Every busy mum knows that sometimes, we have little time to spend on our own skin care routines, as we are too busy with the round the clock baby care routine. This, added to at times a little stress and sleepless nights can leave our skin needing a little extra TLC.
If you are looking for an all round skin care routine, that can reduce the appearance of blemishes, keep oily skin at bay (which is inevitable in the summer months) and gently smooth the skin, then this is a good contender.
This three step daily programme contains a Skin Smoothing Exfoliator, Pore Targeting Treatment and Complexion Perfection Hydrator, all of which contain salicylic acid, which when used together will leave the skin smoother, moisturised and reduce the appearance of redness and blemishes.
This core kit also contains a bonus skin purifying mask.
Rating: 8.5 / 10

lilliesmum


1 Apr 2015 2:12pm




I have been using these products for the last three weeks, and I have to say that I did notice a difference to the smoothness of my skin. Admittedly I didn't use it twice a day as it recommended, I used the three steps every morning, and then probably around 3 nights a week I used the full three steps before bed.

I really liked the exfoliator, which I would use in the shower - I usually use a weekly exfoliator - I found to be gentle enough to use daily, leaving my skin feeling visibly smoother. The moisturiser was very soothing, I have slightly sensitive skin which can be dry at times, and this absorbed straight away and I felt my skin was slightly less red.

I used the pore tightening treatment daily in the mornings (as part of the three step programme), before I put on my make up, but I found it made my tinted moisturiser not spread so evenly, so I switched to just using it of an evening. I can't say that I noticed a difference in my pores, but this is probably down to the fact I didn't use it twice a day.

I would recommend these products to others, and I would definitely consider buying the range again.