Change
Current Location:
SW1W 8EL
Milton, Mini Soother Steriliser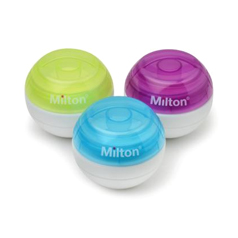 RRP: £6.99
Visit Website

Giving parents peace of mind that soothers are 100% clean on demand, the Milton Mini Soother Steriliser is great for at home or on the go.
Using the quick, easy, safe and effective Milton Method of cold water sterilising, in just 15 minutes a soother is sterile, and ready to use. It can be simply popped into a handbag or changing bag, or attached to a pushchair.
Available in three colours.
Reviews
Be the first person to review this product, just add a review below.