Change
Current Location:
SW1W 8EL
Stokke, Tripp Trapp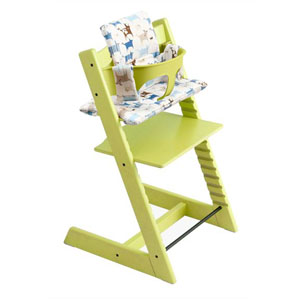 RRP: £140.00
Easy to use: 4/5
Easy to store: 2/5
Easy to clean: 4/5
Visit Website

The iconic Tripp Trapp chair is a simple but classy high chair that has been much copied and is well loved by generations of kids… not least because its design allows you to move the footrest and seat up and down so it's suitable from 6 months but eventually can be used as a grown-up's chair.
The chair comes in solid wood and in a rainbow of ten cheery colours. It's well polished and finished, so it's a hard-wearing piece of stylish furniture that can sit happily up at the table with the rest of your dining furniture. The only downside is that it doesn't fold down after daily use so storage is limited, but it's so good-looking you shouldn't need to hide it anyway!

Reviews
Be the first person to review this product, just add a review below.