Phil & Teds, High Pod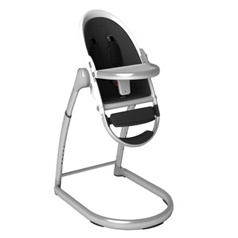 RRP: £199.00
Easy to use: 4/5
Easy to store: 3/5
Easy to clean: 3/5
Visit Website

Giving the more expensive, space age plastic seats a run for their money, the Phil&Ted's High Pod is aimed at fashionable modern parents – as it's punning name suggests! Despite looking as if your baby will be perched uncomfortably, it's snug for babies from birth up (it has three position recline, so it can be used as a snoozing chair for younger babies, pre-weaning).
Sitting on a mercifully small yet stable base it's less likely you'll trip over it as you walk round your kitchen, and the High Pod has five-position adjustable height so it's great to adapt to feeding at the table or standing alone with the tray fitted on.
The back support and the hypo-allergenic, washable 'aerocore' upholstery both reveal much of the attention to detail that has gone into this model, and the only real gripe therefore is that for its price – it's a shame it's only suitable up to 14kgs.