Change
Current Location:
SW1W 8EL
Ikea, Antilop Highchair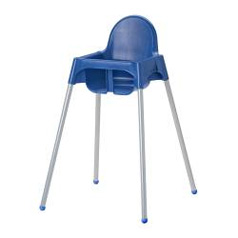 RRP: £10.99
Width: 58 cm
Depth: 62 cm
Height: 90 cm
Visit Website

This simple easy to assemble highchair is easy to clean, due to the seat being made from one molded piece of plastic. It is also easy to dissaseble if you need to travel with it, and comes with a safety belt.
Assembly is required.
Reviews
Reviews in chronological order (Total 2 comments)
Rating: 8.0 / 10

olivia280177, Mother of 3, Leicestershire


30 Oct 2012 3:17pm


This is a classic as far as i'm concerned!! Cheap, cheerful, does the job!! We bought the tray as extra and also the inflatable insert to make it more secure for Flynn when he first started weaning.

Rating: 7.5 / 10

curlydiamond


17 Nov 2010 12:02pm




Current highchair is the £10 one from IKEA. I like its simple clean Swedish design - nowhere for food to get trapped and fester, and it's a doddle to clean - the price is also an advantage in the current financial climate. What I don't like is that it's bulky as the moulded unit doesn't fold flat, and placing an energetic toddler's legs through the holes to be properly seated can be challenging. It also isn't the most attractive design!