Cosatto, Noodle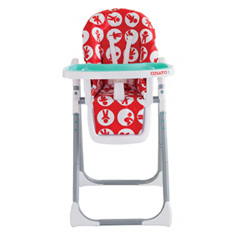 RRP: £90.00
Easy to use: 4/5
Easy to store: 4/5
Easy to clean: 3/5
Visit Website

Of all the conventional metal and plastic models, the Cosatto Noodle seems just that little more funky. Not just because it's upholstered in wipe-able plastic covers that are retro, colourful and fun, but because it has the benefits of an easy to clean, foldable (freestanding) and light feeding chair, but with the flexibility of six-position height adjustment you usually get with the expensive models and the wooden ranges.
It does take up quite a bit of floor space when open, but its easy to store away when not in use, and because it can be used with a tray or pulled up to the table, you might want to keep it out as a play chair anyway. Plus is has three recline positions for baby snoozes!
Suitable from six months, it comes with two removeable, washable trays that also feature cup holders.