Change
Current Location:
SW1W 8EL
Cuddledry, Cuddletwists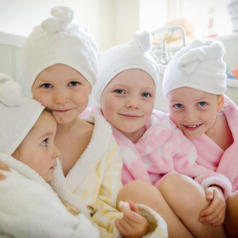 RRP: £8.99
Visit Website

This award-winning product which makes drying children's hair quick and easy with no more drips or fuss. You just pop the towel on your child's head, twist at the back and secure into the stretchy loop on top. Ideal for putting wet hair up quickly after bath time, swimming or the beach.
The Cuddletwist is comfy, soft and stays in place perfectly. Made from silky soft natural bamboo fibre, they are 60% more absorbent than cotton towels, and will never go rough and crunchy after washing. Designed for children from about 18 months up, the stretchy fabric allows adults to even wear them too.
Reviews
Be the first person to review this product, just add a review below.