Pregnancy
Shopping
Summer must-haves for expectant mothers
Fashion is fickle and hard to keep up with most of the time. But high street stores are responding to their mum-to-be customers with some fab summer styles.
Being pregnant during the summer might be a daunting prospect, but we can help with you being hot and bothered by showing you trendy and comfortable clothes you could buy this season that will make you look and feel great. So here are a few choices from four popular brands who excel in the latest maternity wear styles.
H&M
The popular Swedish retailer H&M specialises in quality clothes at an affordable price. Their maternity line 'Mama' consists of comfortable pieces including basic tank tops, shirts, cargo trousers and jeans.

Blouse £14.99
This timeless blouse is an essential item for every pregnant woman to own. Easy, clean and classic, this shirt can be paired with almost anything, Also available in blue and whites stripes.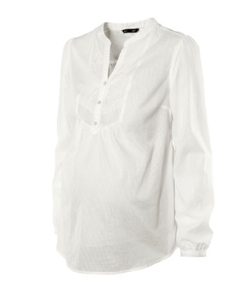 Jersey Wrap Dress £14.99
World renowned designer Diane Von Furstenberg is known formaking the wrap dress, but at a fraction of the price you can buy one from H&M. So for those days when you want to be free of the fuss it takes to decide what top or trousers to wear, this dress would be a great choice.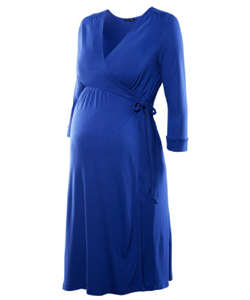 Top Shop
Topshop is known for their extensive range popular with trendy, fashion-conscious customers. This summer various lines focus on the trends of the moment like 'Calypso', with it's bright neon's, African and Atztec prints or their maternity line which includes seasonal pieces that don't lack any of their well-known fashionable flair.
Lightweight trench coat £68
With Britain being Britain it's unlikely that we will not go the season without any 'light' showers. So a great purchase would be this beige trench coat, which is light enough to keep you warm during those cooler summer evenings.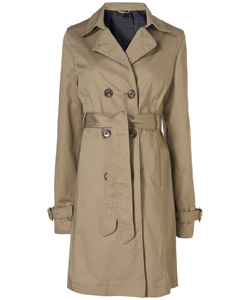 Stripe halterneck swimsuit £28
Being pregnant does not mean you should shy away from the beach, and finding the right swimwear is key to feeling confident and comfortable. This swimsuit is flattering with thin stripes, and added stretch which contours to your growing baby bump. Also available as a tankini.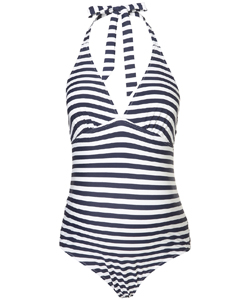 New Look
New Look prides itself on being fashion forward, whilst providing value and a variety of choice. Expectant mothers are spoilt for choice with over 300 items to choose from in New Look's maternity range, but here are two of our choices that we think mothers-to-be should buy for the summer.
Striped maxi dress £39.95
Stripes may seem a not-so-wise choice for an expanding belly but the narrow stripes on this maxi dress, are flattering but still trendy. Maxi dresses are extremely comfortable whether you are pregnant or not, and they are a great choice for a casual summer day paired with a denim jacket or colourful cardigan.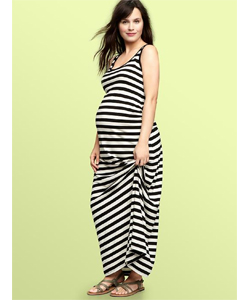 Floral Print Dress £40.99
For expectant mothers who are bold enough to go for a bold print, this is the dress for you. Floral prints are popular every summer, and this one will be no different. It also helps add some sunshine to your wardrobe that may still be a bit drab from the winter.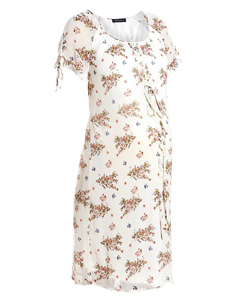 Dorothy Perkins
Dorothy Perkins make affordable fashion for women sizes 8 to 22 and it is the fit of the clothes that customers like the most. The maternity range fits a lot of different sized pregnant women and it has a wide range of classic and sophisticated styles.
Dragonfly print vest £15
It is tempting to pair your jeans or chinos with a plain vest but this summer there are loads of printed vests that are fun and bright. African and floral prints are always popular, but insect and animal motifs are starting to crop up in all the best high street stores. This Dragonfly print vest is a good way to add colour and print to your wardrobe.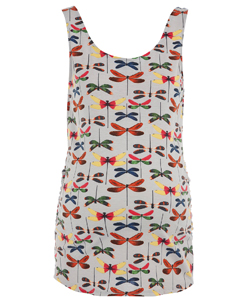 Navy chino shorts £22
These chino shorts are a great way to wear shorts in a casual yet smart way. With clean lines and a tailored fit, you could pair it with a casual t-shirt or a smart top for the evening. Available in pink and turquoise, these shorts are a great way to smarten up a casual outfit.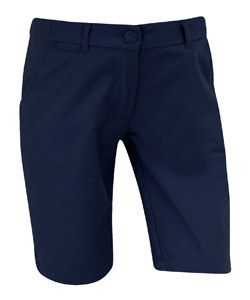 Navy and cream striped vest £12
Nautical fashion is popular every summer, and all you need is an outfit consisting of stripes, cropped trousers, blue and red accents. This vest is a great way to look like you have just stepped off a yacht without taking it overboard. The thin horizontal stripes are flattering and the material is lightweight and stretchy.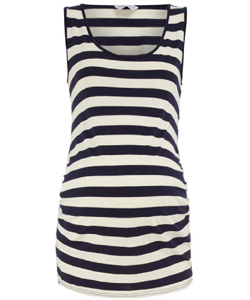 Black maxi dress £18
A black dress is a great canvas to add accessories to that will make it look different each time. This sleeveless maxi dress by Dorothy Perkins is perfect with sandals or ballet pumps for an afternoon out and about. With its flattering high neckline, it can again be adorned with great accessories for a sophisticated evening look. Also available in coral.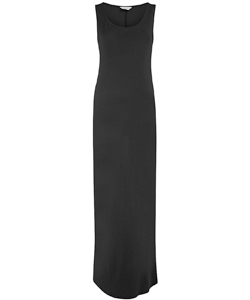 Don't forget to send us your pics of pieces you like - or are wearing - this summer to our Facebook page here.
Related Products
The Breath Co., Fresh Breath products
Have Your Say
Be the first person to comment on this article, just post a comment below.