Pregnancy
Good Advice
Why not become a Baby Directory local Guru
Help other BabyDirectory.com readers to keep up to date with what's going on in their local area by becoming a Baby Directory Guru.
We don't want to take up all your time – we know how little time you have when you're a new parent – but we'd love it if you just wanted to check in with us from time to time to report on a new shop, on places in your area that you enjoy sharing with your child, or other parenting ideas that are local to you and you think other Baby Directory members would like to know about.
Keeping your area up to date
BabyDirectory.com is especially designed to make it as easy to use as possible, all based around your area: once you've logged in your postcode pops up on the home page and below this you'll find all kinds of places relating to childcare, days out, events, education and even pregnancy and birth.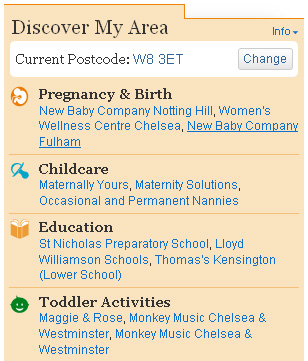 At any time you can go into these sections and either add your review to existing listings or enter new listings for anything you want to talk about – good local stores for babywear, your toddler's favourite playground, even a great local antenatal class you went to.
Being a local guru
From time to time we might be in touch… once every three months or so we'd really like to feature you in an article on the site – just giving us your thoughts on what's happening in your area. Whether you want to tell us about places within 20 or so miles of your village or about your local neighbourhood if you live in a big city, we want to hear all about it.
We don't want you to spend hours trying to turn your thoughts into poetry – honest opinions and family experiences count for much more with fellow mums who read what you say!
Across each month, reports from different local gurus will offer other Baby Directory members an inspiring read.
Tips on writing a review
Don't feel you have to write tons.
Talk like a friend – as if you were recommending or reporting back to a friend about somewhere you really rate.
Be confident to say what's been disappointing - we sometimes feed these things back to the company and they can look at staff training or review customer policies.
Feel free to include pics – if you have photos you'd like us to include with your reviews and articles they will really bring your opinions to life, but images aren't compulsory.
Add a Listing or Add an Event
We are finding new local places all the time, so please do suggest something we don't already know about – and don't worry if you don't have the address, telephone number or website of where you're talking about - if you just give us the name and town, we'll try and pull the essential pieces of information together.

A BIG thank you!
Baby Directory thrives on being as detailed and up to date as possible across the UK, and we couldn't do it without you! But everyone appreciates a token thank you, so each week we'll be giving the most prolific reviewer £30 voucher for Marks & Spencer.
Related Products
Have Your Say
Comments in chronological order (Total 1 comments)
LHBW, Mother of 1, Northern Ireland
10 Jan 2012 5:53pm
New book for sale which looks really useful for struggling first-time mums. "The Mother of All Journeys: coming to terms with having a baby" by Helen Bells. For sale on Amazon.