Pregnancy
Business Profile
Business Profile: Lucie Trinco - Il Tutto
Il Tutto's luxury leather changing bags have been seen on the shoulders of Cate Blanchett, Dannii Minogue and Denise Van Outen, so we caught up with the designer and business owner, Lucie Trinco, to find out how she manages her business/family balance in Australia.
How did you begin your business?
Lucie: I was a handbag designer for Oroton, the Australian equivalent of Mulberry, as well as designing for brands such as Marks & Spencer, Jigsaw and Fiorelli. When friends started having babies I wanted to give them a baby bag as a gift. But no one was designing a gorgeous leather bag that had all the features you needed as a mum that was still stylish and fashionable. So I quit my job and started on the launch of Il Tutto.
What do you think makes Il Tutto stand out from other changing bags on the market?
Lucie: Not everyone wants a bag that screams "new mother". Women love having a fashionable "it" bag. And Il Tutto has the façade of a cool, luxury, must-have handbag – with all the practical compartments: mobile phone pockets, pen and zip pockets, as well as insulated bottle holders, clips for dummies and waterproof changing mats.
How do you manage the business/family balance?
Lucie: I have outsourced the warehousing and distribution of the bags, which takes a lot of the workload away. My office is just down the road and I am really well supported by 5 girls.
I work 4 days a week so my little girl, Frankie (14mths), is at a local childcare centre on Thursdays and Fridays (which she loves), and my husband works evenings so he cares for Frankie for 2 days. And on Wednesdays I do "mum" things such as swimming lessons or just going to the park. Obviously work doesn't stop when I get home and I do a lot of international calls in the evenings, which works well with time zone differences.
What were the challenges in establishing your business?
Lucie: Retailers were hesitant to take a new brand without any sales history. Consumers were not sure until we started getting great PR coverage. It also helped having celebrities, such as Cate Blanchett, photographed carrying Il Tutto. It was also a huge milestone getting a small quality manufactured at a commercially viable price. And as we have grown and opened up in other markets, getting the brand established to a new consumer group has got easier as we've got more experienced.
What are your plans for the future?
Lucie: We are now focusing on taking the Il Tutto collection to Amercia, Asia and the Middle East.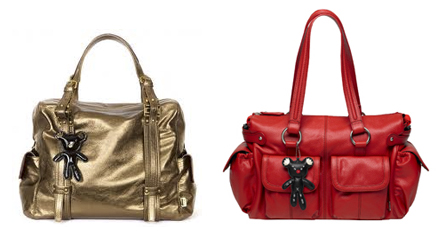 Related Articles
Il Tutto unveil their summer collection
Related Products
Have Your Say
Be the first person to comment on this article, just post a comment below.