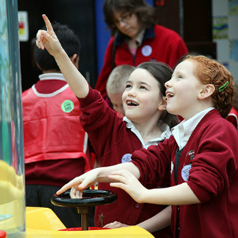 Nine Mile Road, Bracknell, Berkshire
RG12 7QW
01344 354 400

Looking for something to do this summer? Come to The Look Out Discovery Centre in Bracknell. It is a fantastic, fun day out! Where can you launch a rocket, play a light harp, take a picture of your own shadow or make a mini animation… all in one day? There are more than 90 interactive hands-on science and nature activities in the centre, from the hot air balloon and challenging puzzles to creating circuits or designing at the Squirtual Reality exhibit. There is something for everyone, from toddlers to grandparents. New for 2013 is Build It! Become a member of the construction crew by building the unfinished house -recently described as "awesome!"
Also at The Look Out there is a gift shop with great pocket money items and coffee shop. The centre is set in 1,000 hectares of Crown Estate woodland with a fantastic adventure play area too! A popular venue for birthday parties, why not consider 4pm-6pm on a Friday during term time, exclusive use after 5pm for no extra charge! Open daily.

Our super saver ticket is only £18.75 for 2 adults and 2 children or 1 adult and 3 children (valid until 31 March 2014). Children aged 3 and under are free! Special parent and toddler rates for term time. There is a £2 parking charge for a 4 hour visit to The Look Out. However, visitors (adult and saver tickets only) to the hands-on science exhibition who pay on the day will be given a £2 discount, (parking stub needs to be shown at time of purchase).

To be kept up to date with everything that is going on at The Look Out like and follow us at www.facebook.com/thelookoutdiscovery.