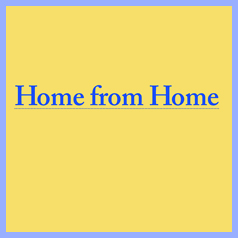 Quarrendon Street, Fulham, London
SW6 3SU
020 7736 9029

Morning Sessions - 8.30 -12.45
Optional sleep till 2.30
Children between 1- 4 years old
Home from Home specialises in entertaining and encouraging children to develop and learn at their own pace within a homely caring environment. The benefit of having a maximum of nine children is that we encourage the same traditions and values, as they would have at home. Every child is treated as a unique individual with his or her own personality and sense of humour. Our fun routine creates a happy and secure environment. Children are encouraged to be thoughtful, kind and helpful to one another as they learn to share and make new friends. Staffing ratio's never exceeding 1:3 giving each child close adult attention. All staff are fully qualified with years of experience.
Home from Home is within a happy family home in Parsons Green, Fulham. The Children have sole use of a bright and spacious playroom with a wide selection of toys and educational equipment. Lunch is served in the spacious kitchen and the children play in the garden regularly. We are within five minutes walk from South Park and Eel brook Common and go on a 'park trip' most mornings.
The idea of providing quality childcare to young children has come from my experience of day care. I believe along with much research that young children in particular need individual care in a warm environment. 'Home from Home' allows the child to experience normal aspects of life in a stimulating home environment surrounded by other children.
Reviews
Reviews in chronological order (Total 4 comments)