Ower, Near Romsey, Romsey, Hampshire

A smaller version of Chessington which caters well for children of all ages. It has around 40 attractions including exciting rides and a selection of exotic birds and animals. The opening of Peppa Pig World in the April 2011 has increased the park's appeal for children under 6 (see below).
Peppa Pig World
Theme parks for under 5s is a tricky concept, but at Peppa Pig World each ride has been thoughtfully designed to provide maximum fun without any frightening experiences. You can lift off in a Balloon, ride in Mrs Rabbit's helicopter, or help Daddy pig make pancakes (and see how many are still stuck to the ceiling). Recognisable elements from the TV programme and books perfectly recreate Peppa Pig's world for children.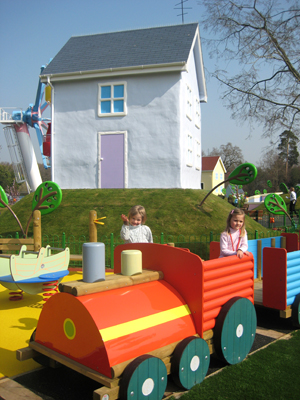 A popular area on sunny days is jumping in muddy puddles, so don't forget to bring a complete change of clothes (and possibly a swim nappy). But it would be equally fun on a rainy day with gumboots and waterproof trousers. There's also a great indoor playcentre with ball pits, tunnels, slides and George's spaceship to climb (wifi in the cafe, plus a separate area for babies under 1yr).
We strongly recommend you ring Paulton's Park before you set off on your family day out, to make sure they are open and to confirm admission prices. It may also be worth visiting the website for Paulton's Park to see if there are any special events on the day for which you may have to book a ticket. Please also be aware that if Paulton's Park hosts birthday parties, this may limit the access in the cafe/restaurant areas.
To see full contact details (Tel, Postcode, Website) please Join Now | Sign in
Reviews
Reviews in chronological order (Total 3 comments)
emmijazz, Mother of 2, Essex


10 Apr 2012 4:12pm


We had a lovely time at Peppa Pig World but also really enjoyed the rest of Paulton Parks too. The whole place is very wholesome, clean, relaxed, and good fun and it was a bonus to discover the rather bizarre range of birds and animals they have there which include white wallabies and pink flamingoes. There are lots of rides for all ages - my 2 nearly 3 year old loved the Peppa pig rides and my 7 year old loved the rollercoaster Cobra and the Jumping Bean and they both loved the water rides. As for food, we took picnic for fussy toddler whilst 7 year old tucked into the park hot dogs and ice creams. We took a change of clothes, waterproof jackets and a towel -very important! The staff are really friendly and the place feels very well managed. Can also recommend the Bartley Lodge hotel down the road where we stayed for 2 nights either side of our visit - kids stay for free and there is a small swimming pool which adds to the whole holiday feeling.

777alison, West Sussex


2 Aug 2011 9:56am


Loved our day out here. Our little man is 14 months and there was soooooo much for him to do. He played on the playgrounds, went on a tractor ride, went in some hot air balloons, on dragon rapid ride and much much more. I have never been to a place that caters so well for ALL ages of children (including adults). We took our own picnic and bought an icecream as a treat. Would recommend taking swimming stuff for the kids as there are 2 splash areas and socks for the indoor play bit at Peppa Pig world. There are lots of lovely walks under the shade of trees if it gets a bit hot. We were there for 5 hours and it was really busy. I don't think I heard 1 child moaning. Lots of fun going on all around us. Can heartily recommend this day out.

Clare, Mother of 2, London


5 Apr 2011 10:06am


For the Peppa Pig fans in my family, this is a heavenly day out. We arrived on a stunning spring morning, and from the fresh turf on little hillocks to the pristine indoor play centre (complete with WiFi), everything was shiningly brand new. Our girls loved Peppa Pig's house where Daddy pig was making pancakes (and getting quite a few stuck on the ceiling). And with their laughter reverberating around the room, it was rather unnerving to see Daddy Pig's jowles wobbling rather convincingly. These models are beautifully crafted and will have you in stitches. The eldest in the party thought George's dinosaur ride the best - and I loved the ride in the clouds around Grandpa Pig's Windy Castle. All rides are incredibly gentle and I didn't see one small baby who wasn't enjoying the experience. You do need to bring a Picnic. There was no children's food in the Peppa Pig world section (which was a bit disappointing) - although we opted for some toasted sandwiches just outside. It would have been hard to drag everyone back to the main cafe. Beware the shop! It's fantastic - toy licensing gone mad.
Quick Links:
My Area:
Aeroplanes and Boats
,
Aquariums
,
Art Centres and Galleries
,
Baby Shows
,
Castles
,
Children Farm
,
Childrens Theatre
,
Cinemas
,
Cookery
,
Family Restaurant
,
House and Garden
,
Ice Rinks
,
Museums
,
Nature Reserves
,
Outings
,
Parks and Gardens
,
Steam Train
,
Theme Parks
,
Zoos