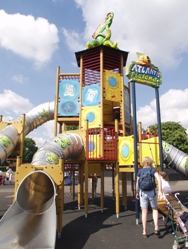 Barton Road, Kettering, Northamptonshire
NN15 6NJ
01536 512 475

Visit Website
Request Information
Wicksteed Park, as well as having rides and attractions, is also an English Heritage Grade II Listed park and garden. Families can walk in the park all year round, free of charge. A fairground with small rides suitable for younger children includes roundabouts, a pirate ship, cups and saucers, a carousel and dodgems. The arena contains the majority of rides and rollercoasters for older children as well as a racing car track. There's a lake with boats and other watery rides and a miniature railway. Wicksteed also has seasonal events during the holidays including Halloween fun, a winter ice-skating rink and Easter treats. Open 10.30am-4pm/6pm depending on the season, closed Christmas Day - please check the website for further details.
We strongly recommend you ring Wicksteed Park before you set off on your family day out, to make sure they are open and to confirm admission prices. It may also be worth visiting the website for Wicksteed Park to see if there are any special events on the day for which you may have to book a ticket. Please also be aware that if Wicksteed Park hosts birthday parties, this may limit the access in the cafe/restaurant areas.
Reviews
Reviews in chronological order (Total 1 comments)
fdrinkell, Mother of 3, Northamptonshire


3 Oct 2011 6:25pm




Wicksteed Park in Kettering is our favourite, (NN15 6NJ). It's great if you want a wander around the park & lake & it is fabulous for family picnics for which we have many. There is a free childrens play park & other climbing frames etc. dotted around the park.
Quick Links:
My Area:
Aeroplanes and Boats
,
Aquariums
,
Art Centres and Galleries
,
Baby Shows
,
Castles
,
Children Farm
,
Childrens Theatre
,
Cinemas
,
Cookery
,
Family Restaurant
,
House and Garden
,
Ice Rinks
,
Museums
,
Nature Reserves
,
Outings
,
Parks and Gardens
,
Steam Train
,
Theme Parks
,
Zoos