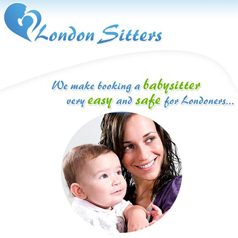 07833 469 635

Visit Website
Request Information
LondonSitters is an online babysitting agency that allows parents to easily book a reliable and properly screened babysitter by the hour online via our website.
We are a London based start-up that intends to cater for the dynamic and multicultural parent community in the area. We do not think having young children should stop you from enjoying the city. The same way most of us feel very comfortable nowadays booking a holiday, a restaurant or even cinema tickets online, we think safely booking a babysitter online should be as easy as well. Parents ourselves, we wondered why so many times arranging a proper night out became so randomly complicated. Why did we need to spend hours on the phone calling all our favourite sitters to find one available and even sometimes having to cancel the event altogether? There had to be a better way… and LondonSitters.com is it.
SAFE

While looking for an evening babysitter on the Internet may not look safe at first, the truth is that LondonSitters.com performs the same thorough screenings of all our sitters before allowing them in our database than regular brick-and-mortar agencies do.

We personally interview each and every babysitter in our site

We run CRB checks

We check all references

Our strict documentation requirements include passport, NINO and proof of address


CONVENIENT AND EASY

However, LondonSitters.com is a lot more convenient than most agencies, as all is done very easily through our website:

Search for the truly available* babysitters in your area and timeframe requirements
Review their profiles and terms
Take a decision
Click Submit


Shortly after both the parents and the babysitter will receive an email and SMS confirmation with all the details, so no room for disagreements later on

TRY 3 MONTHS FOR FREE

If all the above makes sense to you and want to give it a try, do not forget to take advantage of our Baby Directory Promotion, which gives you 3 months of our service for free.
Just register on our website as a parent using promotional code: BABYDIRECTORY2011.


(*) Note that when we say "truly available" we mean it: we have our babysitters' schedules in our database, so this is not the typical list of phone numbers than needs to be worked through. If a babysitter appears in the search results, she is available that evening.
Reviews
Be the first person to review this local listing, just add a review below.