Baby
Health
Buyer's guide to travel cots
Finding a good travel cot is all about something that's cosy for your child but also easy to carry and set-up for you.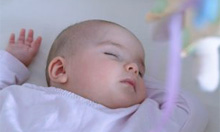 Whether you're on holiday, visiting family or just want a sleep and safe-play option for your baby downstairs in your own home, a travel cot will probably be one of the most used nursery products you buy.
In the earliest weeks after your baby's birth, you will probably either use a Moses basket that can be easily carried from bedroom to lounge to granny's house, or a carrycot that comes as part of your first pram-pushchair combination. However, by around three months your baby will need to move into a larger cot to sleep that will not easily be moved from room to room. At this point, you may also need a travel cot to ensure your baby has a safe place to sleep or rest when you are on holiday, or staying over with friends or family.
What to look for in a travel cot
Weight
Ironically, travel cots can be extremely heavy to carry. This is because they need to be sturdy and reliable when your baby is asleep – you want the uprights to stay in place, and also you want them to hold the weight of your child as he grows, should he wake in the night and raise himself up.
In the store, pick up a folded travel cot and put it over your shoulder – can you carry its weight along with perhaps your baby in a carrier in the other hand? Luckily, most of the time travel cots are used when visiting by car so lifting time is minimal but it is worth seeking out the few cots on the market that are lighter. (Consider booking a cot ahead when travelling abroad as a travel cot is an unnecessary weight to take on flights with you).

Ease of use
Ask around among friends to see which brands they have and if they find them easy to use. Have a try yourself at assembling and dissembling a few cots in the store. In order to make all the catches and uprights safe it can prove difficult even for an adult to lock a cot into position and then undo it again! All catches will come with safety covers to avoid trapping little fingers, but if you find a cot too tricky to put up and take down yourself, choose a different model because this is a piece of nursery furniture which needs to be all about convenience.

Can you see baby?
Most travel cots have at least two sides which are mesh so you can see your baby asleep and he can see you when he wakes. Some cots have four mesh sides, but you might find that having two sides which are thicker material (usually the two shorter ends) can be useful in order to position the cot so that direct light (say, from a bedside lamp) isn't going to wake or distract your child.

Comfort
Feel the bottom of the cot. Some have rather crinkly mattresses in order to make them as light to carry as possible. Is it cosy enough for your baby? Remember that in the earliest months you won't be able to make the base more snug with unnecessarily blankets because of issues around safe sleeping.

Travel cots for small babies
Travel cots are cosy and reassuring for older infants and toddlers, but for a small baby, the base of a travel cot can seem a long way down near the floor, compared with being up near you in a bedside cot or in a pram during the day. There are some great pop-up travel cots which are only used in the early months (until your baby can sit up, which happens from around four to seven months), such as the Nomad or Samsonite options. After this time you will need to buy a proper travel cot.
Alternatively, you can buy a travel cot that comes with a 'bassinette' which is a small cot that fits onto the top of the main cot and is suitable for small babies. Or you can buy a travel cot that has adjustable heights so that you can lower the base as your baby gets older.
The other thing to consider with having to put a small baby to sleep all the way down on the lowest level is your back – birth, breastfeeding and baby changing all take their toll on your back, and having to lean all the way down to almost the ground inside the cot to lay your baby down and pick him up again can give you back ache!

Cute extras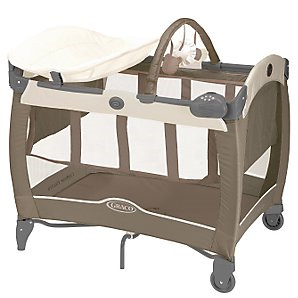 Some cots are designed to also be a playpen for quiet time – these come with activity bars fitted along the top. Some of these also have lights and make sounds to soothe a young baby.
The Graco Contour Electra is one of the more swish models that includes a crib for newborns which has a gently vibrating mattress.
Some models like the Mothercare Bassinette and Travel Cot also come with a baby-changing mat which fits across the top of the travel cot, or with two wheels to make it easy to move around once unfolded.




Related Products
Nibbling, Chelsea Teething Necklace
Related Forum Topics
Forum: Baby
Have Your Say
Be the first person to comment on this article, just post a comment below.