Baby
Books/DVD's
Our pick of children's books for September
With the help of ReadingZone, here are our pick of books for your little ones this month.
Baby
By Smriti Prasadam
Published by Orchard Books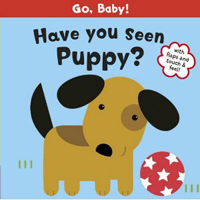 ISBN 9781408315064

It's time for puppy's walk – but where is he? Follow the clues to see if you can find out where puppy is hiding, and encourage baby to use the flaps on the pages and to explore the touch and feel materials.
There are lots of places to look for puppy – under the bed or table, in a bag or in the garden and your child will enjoy the surprises waiting under each flap they open and the different textures explored on each page.
If you enjoy this book, there are others in the new Go Baby! Series, including other 'Have You Seen' titles and 'Who Am I' books.
Toddler
By Benji Davies
Published by Nosy Crow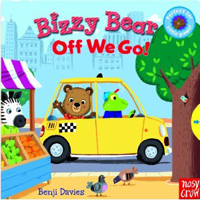 ISBN 9780857630032

A new series of board books based on the Bizzy Bear character introduces young children to a range of different settings and situations, wonderfully illustrated through sturdy moving sections on each page.

On the cover, Bizzy Bear is in a taxi that can race across the page when a child pulls the tab. Bizzy Bear also gets held up in traffic on a roundabout and there's a train to catch – each illustrated with moving vehicles. Finally, Bizzy Bear whooshes up into the sky on an aeroplane.

These books are lots of fun and enable young children to make the story happen. See also Bizzy Bear Let's Get to Work for diggers and trucks.


3 - 5 years

By Jill Murphy
Published by Walker Books
ISBN 9781406330120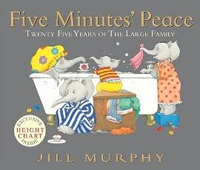 This anniversary edition of Five Minutes Peace celebrates all those occasions when mum does, somehow, manage to snatch a few minutes of peace from a very busy schedule involving, in this case, three energetic offspring.

Mrs Large heads off for her morning bath with a cuppa and the paper, only to find the endless demands from her three children follow her to the bathroom. As her children each leap into the bath to join her, Mrs Large manages to escape downstairs where she enjoys precisely 'three minutes and 45 seconds of peace' before they find her!

This is a very recognisable story within a real family setting that has been enjoyed by mums and dads – as well as their offspring – for many years.
For more information on ReadingZone please visit www.readingzone.com
Related Articles
ReadingZone: best new books published in October
ReadingZone: The best new books February 2011
ReadingZone: The best new books January 2011
ReadingZone: The best new books March 2011
ReadingZone: The best new books April 2011
5 of the bestů Pregnancy and Parenting guidebooks
Our pick of children's books for October
New books published: November 2011
Christmas Toddler Toys.. books
Related Forum Topics
Forums: Baby
Have Your Say
Be the first person to comment on this article, just post a comment below.