3-5
Travel
Great offers for half-term family skiing
Family skiing resorts are offering some great prices this year, including straight forward money-saving discounts, or tempting offers of free childcare, equipment and ski passes. Check out these top family-friendly resort specialists.
Club Med
Tel: 08453 670 670
www.clubmed.co.uk
Club Med is the original all-inclusive resort. Chamonix, Villar-sur-Ollon, At Sahoro and Serre Chavalier are the most reccomended resorts for a child-friendly environment.

Childcare: While Baby Club Med's (4mths-2yrs) schedule is adapted to each child, Petit Club Med (2-4yrs) and Mini Club Med (4-11yrs) have indoor and outdoor activities for children according to their age groups. Baby Welcome (4mths-23mths) provides parents who want to pack light with cots, changing mats, baby baths and meals provided.
Special Offers: Before 25 Jan, exclusive prices from £733pp, saving an average of £300/family.
Mark Warner
Tel: 0844 273 6395
www.markwarner.com
Pioneers in the concept of "chalethotel", Mark Warner holidays have combined the intimate experience of a chalet with facilities, such as restaurants and beauty salons, found in hotels. Austria, France and Italy are the home of 9 chalethotels equipped with crèches.

Childcare: Enjoy a full day of skiing knowing your snowbunnies are safe and having fun at the resorts in-house crèche. There are six overall children's clubs (4mths-12yrs), from 9am-5.30pm with prices starting at £150/child/week. Children booked in the clubs can also be escorted by nannies to and from their ski lessons. For couples looking for alone time, resorts provide an evening drop-in crèche or, at an extra charge, private babysitting.
NB* Special offers vary for each resort, starting at £470 (includes flights, transfers, accommodations, lift pass and more). Check website for details.
Neilson Active Holidays/Airtours Ski
Tel: 0844 879 8155
www.neilson.co.uk
Neilson's is an excellent choice for families looking for an exotic ski destination. Norway, Sweden and Bulgaria are great alternatives if you've had enough of the Alpine scenery. Click here to check out the 20 top rated family friendly hotels, out of the 170 available for booking.

Childcare: Snowangels (4-23 mths), snowman (2-4 yrs) and snowbusters (5-12yrs) clubs are where children's activities take place. New mums can relax with babies being looked after by nannies with excellent childcare qualifications. Rowdy toddlers are sure to go home exhausted after a day of tobogganing or arts and crafts. For cooler "young adults", evening entertainment is provided twice a week. Prices vary according to age, from £190/6days for the snowbusters to £250 for babies.
Special Offers: Children 2-11yrs: travel and stay for free when sharing a room with two adults on charter flight holidays. Half-term (11-12Feb): Early booking savings of up to £250pp. Book online and save up to an extra 5%!
*NB all clubs are very popular, so early booking is recommended.
Ski Beat
Tel: 01243 780 405
www.skibeat.co.uk
If your family is looking for catered chalets in the French Alps, then La Plagne, Les Arcs and Le Roserie resorts are Ski Beat's reccomended destinations. Horse-drawn sleighs, husky sledges and ice climbing are some of the more unique activities available.

Childcare: 3mths-4yrs: Childcare, crèche and nanny services are available for children, with qualified British nannies. Private nanny services: available in some resort for the use of groups who book a whole chalet. The nanny will be responsible solely for those children in your group. NB* £80/child under 2 yrs, whether the childcare services are used or not.
Special offers: February deals include up to 20% discount with chalets from £575 and at Les Arcs save up to £285 on childcare.
Ski Famille
Tel: 0845 64 437 64
www.skifamille.co.uk
Ski Famille was created by two couples with toddlers in two locations in the French Alps. Les Gets, dating back to the 11th century, exudes old european charm and Reberty Village (Les Menuires), in the world famous "Three Valleys", is Famille's newest addition and perfect for experienced skiers.

Childcare: There are no crèches at the resort so carers come to your chalet and use this home environment as their base. All staff are recruited in the UK and undergo thorough CRB and reference checks. Almost all of the Ski Famille office team are skiers with young children of their own. Call them to discuss the best options for your family.
Special offers: 4 Feb: Les Gets chalet discounts of up to £185pp.
Ski Esprit
Tel: 01252 618 300
www.espritski.com
From ensuring that your lift-passes are hand delivered upon arrival to delivering/colecting your ski equipment, Esprit strives to arrange ski holidays where their clients needn't lift a finger. Chalets and chalethotels were designed specifically for families in the slopes of Austria, Italy, France and Switerland. Special chalets are available for parties of up to 37 people, so no one is left behind.
Childcare: Evening Cocoa Club is free for children booking any full-day combination of childcare and/or Esprit ski lessons. Evening Baby-Listening/Child Patrol Service is free every night. Resort Extras: Free swimming and ice skating in several resorts.
Special Offers: Early-booking children receive discounts, even when in their own separate bedrooms. Up to £200/couple discount. ' Single Parent: if just one parent wants to ski with one or two children, children receive the full discounts, even though accompanied by only one full-paying adult. Crunch Busters: free ski, boots and helmet rentals for children, as well as lift passes and insurance*.
*On most dates and resorts.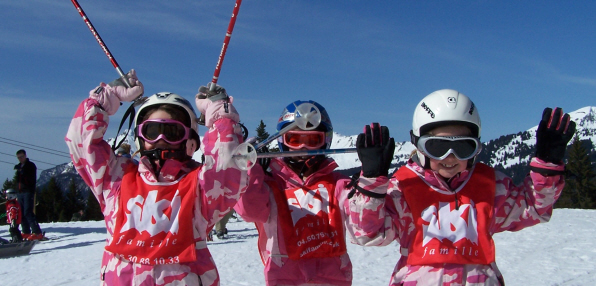 Related Forum Topics
Forums: 3-5yrs
Have Your Say
Be the first person to comment on this article, just post a comment below.