3-5
Shopping
Weleda Calendula Bath
Ensuring your baby or toddler sleeps peacefully through the night can be tricky, but a nice warm bath is something that can help. Indeed, the product you use in your child's bath can mean the difference between simply cleaning your child, or improving the quality of your child's sleep. Although there are many bath oils and ointments in the market, Weleda has introduced a natural product that is cunningly different, Calendula Bath.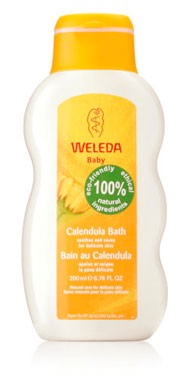 This ointment combines pure plant extracts like thyme, which soothes a number of infant troubles such as indigestion, coughs and colds. Its peaty colour may look uninviting but Calendula Bath has a soothing and calming effect and its aromatic fragrance from essential oils like lavender and pine, help create a calm atmosphere that prepares your child for a good night's sleep.
Grown organically by Weleda, golden calendula petal extract, also a key ingredient, is good for sensitive skin and it has wound healing properties that can help soothe dry and irritated skin from nappy rash.
Calendula Bath is a product that can not only improve the quality of sleep for an infant, but it also helps sleep-deprived parents get a good nights sleep too.
Weleda Calendula Bath is available from independent health stores and pharmacies, or from the online store at www.weleda.co.uk. Call 0115 944 822 for mail order or stockist information.
Related Articles
Business profile: Sally Robertson – Organic at Heart
Have Your Say
Comments in chronological order (Total 1 comments)
Clare, Mother of 2, London
27 Mar 2012 5:59pm
I've tried this and it does have a funny brown look, which is strange at first. But the smell is really natural and relaxing and it makes the water feel silky without being oily. My little ones love it, and my daughter's skin (which is prone to drying out with cheaper brands such as Johnson and Johnson) really improved after a few week's use.