3-5
Books/DVD's
Watch with Mother: Bambi
Many parents will remember being very upset by the scenes of Bambi losing his mother, and may think twice about exposing their young children to the new DVD released this week. So we asked Dr Pat Spurgin, the respected child psychologist and family life expert, for her valuable viewing tips.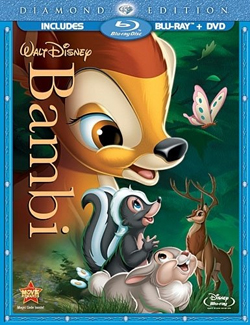 Looking at many of Disney's classic films, such as Cinderalla, Snow White, Rapunzel and Bambi, there is a habit of isolating the main character from the warmth of a loving family relationship. And the scenes of separation or death can be frightening to children as they begin to understand the world around them.
Should parents be more aware of the risks of frightening their children?
Dr Spurgin: In this modern age, children learn not only from their direct experience but also from the media. In early childhood, films can be a powerful medium to teach children life lessons. By watching films together, parents can help their children understand relationships, how to deal with difficult events in life and how to make the good decisions.
Do you think children of different ages react differently to the theme of loss or death?
Dr Spurgin: Children aged 2-5yrs do not generally understand the finality of death. They may have experienced death of a relative or pet, but they wouldn't necessarily link that to a feeling of loss or abandonement.
For a child aged 7yrs+ who has recently lost a loved one, the film provides an opening to talk about loss. Don't force the issue but if your child asks, reply with simple answers appropriate to their age. Answer their questions honestly and if you don't know the answer say so. Reassure your child that you are not going to die for a long time and you will be there care for them.
Why do some children of the same age react so differently?
Dr Spurgin: Some children are naturally more emotionally sensitive and parents know their children best when it comes to making a decision whether to watch the film or not. But there are lots of positive themes in Bambi such as friendship, perseverance and environmental issues which are worth exploring too.
What signs would a child give to indicate they are anxious about events in the film?
Dr Spurgin: Most children become quiet and withdrawn if they are worried. The best thing parents can do is listen and lead them a little to be able to talk about their fears, then provide reassurance that you will always be there to give help and advice.
We have 3 review copies available for parents. If you would like to participate in reviewing this for The Baby Directory please email editor@babydirectory.com.
Related Forum Topics
Forums: 3-5yrs
Have Your Say
Be the first person to comment on this article, just post a comment below.