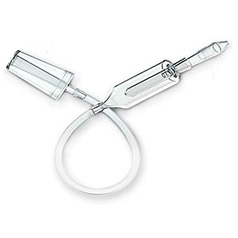 020 8517 9584

A running nose for babies and toddlers is very common. One of the major problems is that a small child is not yet capable to blow his/her nose and it will take some time before an infant or a baby will learn to breathe through the mouth. Snuffles will hinder breathing, make them feel discomfort, and may lead to more serious health problems concerning the ear, nose, throat and the inferior respiratory tracts. Therefore it is very important to keep the nasal cavity clear.
The Baby-Vac tackles this problem by removing the mucus from the babies nose by using the suction of a hoover. The Aspirator end fits into most vacuum cleaner hoses, and can be easily cleaned after use.
For further information and to watch a video of the Baby-Vac in use visit www.baby-vac.co.uk

To read what other babydirectory.com readers thought of this product view our product guide here.