3-5
Parties
Annabel Karmel's Princess Party Cookbook
Every little girl dreams of being a princess... and there's nothing a princess likes more than throwing a party. We take a look at Annabel Karmel's Princess Party Cookbook, and have picked out a recipe perfectly suited to the encroaching festive season.
Perfect princess party food
Whether she yearns for a Fairytale Feast, a Make-up and Jewellery Party, a Valentine's Meal, a Movie Star Sleepover or a Beach Babe Barbecue, help is at hand. This enchanting book from Annabel Karmel allows you to indulge your little girl's every desire with more than 100 specially created recipes and ideas designed to feed her imagination and encourage her participation in the kitchen.
From flower-shaped sandwiches and butterfly cookies, to emerald pizzas, ruby-glazed chicken, jewelled jellies, pink prawns and chocolate kisses, these are magical, delicious dishes fit for a princess's banquet. With inspiring ideas for the all-important centrepiece cake, plus menu plans, suggestions for easy table settings, costumes, decorations and gifts, this is an indispensable guide to planning the perfect princess party.
As the festive season seems to be fast approacching, we thought we would share one of Annabel Karmels recipies for delightful angel cut out cookies, taken from her new book. A perfect project for Christmas school holidays, these cookies are easy for your little ones to bake themselves (with a little help from mum when popping them in the oven).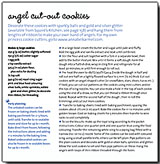 Simply click here or on the image on the right to open up the pdf.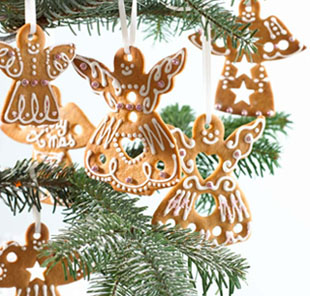 Why not try using different shapes, and make some snowflake cookies with a star cookie cutter like these below?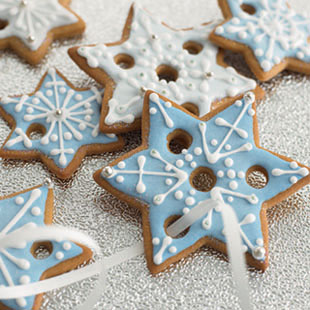 For more information on Annabel Karmel visit www.annabelkarmel.com
Priced £12.99, Annabel Karmel's Princess Party Cookbook is available now. To buy your copy please click here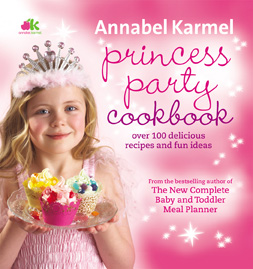 Related Products
Purepotions, Skin Salvation Bath Oil
Related Forum Topics
Forum: 3-5yrs
Have Your Say
Comments in chronological order (Total 1 comments)
Amelie, Mother of 1
18 Dec 2009 3:04pm
This is just too pink and perfect. How does she get those stars to be so symmetrical?