3-5
Good Advice
New play and toy shopping advice website for parents launches
New service launches aiming to ensure children get the right present for them.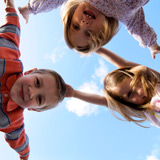 Christmas and birthdays are a tricky time for parents and relatives as we try and wade through the overwhelming amount of toys, games and gizmos to find that special gift that a child will enjoy and appreciate.
www.my2frontteeth.co.uk, a new website set up by one of the UK's leading child psychologists, aims to help parents with this tricky dilemma, offering independent advice on the best toys available and what sort of desirable skills those toys will promote in a child.
Dr Amanda Gummer has 20 years experience working with families; she is an expert in play and parenting. Her new website explains what sort of play children engage with in different situations and at distinct stages in their development, whilst offering examples of the best products and toys out there suited to those needs.
The free service lists the best toys of every variety including indoor and outdoor toys, creative activities, books, educational amusements and hi-tech gadgets whilst offering unbiased advice based on a child's sex, age, interests and needs. Importantly www.my2frontteeth.com also promotes ways that children can play without bought toys, as fun needn't be a bank breaker.
The site also features a unique, bespoke present advice service where you can get professional advice on what toys to buy for a child with very specific requirements. External factors such as any special needs, whether a child has issues socialising or struggles with hand eye co-ordination, for example, can be considered before receiving Dr Gummer's professional advice on what type of toy and learning through play would benefit the child the most.
You can find out more at www.my2frontteeth.co.uk
What toys have helped your children learn and develop through play? And are there any that you think had a negative effect on your children's behaviour? Let us know on the comments below.
Related Articles
Christmas Toddler Toys.. dolls houses and playsets
Christmas Toddler Toys.. ride-ons
Christmas Toddler Toys.. pint-sized home
Christmas Toddler Toys.. arts and crafts
Christmas Baby Toys.. soft toys
Christmas Baby Toys.. bath toys
Christmas Baby Toys.. activity mats
Christmas Toddler Toys.. puzzles
Christmas Toddler Toys.. books
Related Forum Topics
Forums: 3-5yrs
Have Your Say
Be the first person to comment on this article, just post a comment below.