Toddler
Travel
Beach safety for babies
Top tips for keeping young children safe on a day at the seaside.
Babies and small children can enjoy the beach as much as you do so long as you remember a few basics.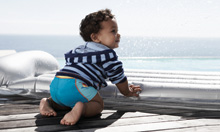 Sun care
Babies have much thinner skin than older children and adults. Babies under six months old should be kept out of direct sunlight, especially between 11am and 3pm when the sun's rays are likely to be strongest. Even if you think you 'tan easily', exposure to the sun now can store up serious skin problems for your baby in the years ahead.
Keep your baby shaded by taking a pop up UV-protective tent to the beach with you, and using a sunshade with your pushchair.


Dress your baby in comfortable clothing that covers all her skin. Remember that light colours and loose-weave clothes offer less protection than thicker clothes, but also that you don't want your baby to overheat. There are some lovely UV-protective beach outfits for children of all ages, widely available in department stores. These can be a useful solution to this problem.


Make sure too that headgear covers the face and beck – a peak-capped Legionnaires hat is ideal, but make sure you take along a hat your baby likes that isn't going to get pulled off all the time.


Use at least an SPF 30+ sun cream, but preferably 40+ for babies and young children. Choose a cream that carries at least a four or five star rating, is UVA and UVB protective, and is designed for young skin.


Apply cream before you go out in the sun and keep it topped up through the day, especially if your baby gets wet at the beach or is sweaty in hot weather.


Don't forget toes and hands!


Buy your baby some comfortable wrap-around baby sunglasses to protect her eyes.
Water safety
Even the most shallow rock pool can be a danger for toddlers and babies. Don't let this stop you exploring – rock pooling and swishing around in shallow waves are two magical activities on any day out at the sea – but do make sure you watch your children at all times.


Wind
Don't forget that beaches rarely have trees to shelter you! Babies can feel the cold if a wind blows up, and they won't think to shield their eyes if a gust of wind blows up the sand. Again, a pop-up tent can be a useful place for smaller babies to rest and even play. Otherwise take along a wind-break or position your pushchair so it shields your baby from breezes.

Related Articles
The Best baby and toddler friendly 5 star hotels
Exclusive 10% discount to the BEST Hotels with babies and toddlers
Have Your Say
Be the first person to comment on this article, just post a comment below.