Toddler
Shopping
New range of allergen eliminating mattresses launches
Cot mattress experts Kit for Kids Baby, have launched the Ellergenic range of cot mattresses, with the aim to provide the safest and most hygienic cot for babies.
Based on years of research, Ellergenic mattresses help to protect babies against the type of allergens and microbes that can sometimes live in abundance in their cots, which can be harmful.
The Ellergenic mattress comes complete with a sealed spring core, the Ellergenic Shield, a waterproof yet vapour permeable inner fixed cover and a machine washable, anti-allergy and anti-microbe Wellbeing outer cover, giving babies three levels of hygiene protection.
The fact that the mattresses are vapour-permeable with a waterproof fabric layer helps to maintain an even temperature around your little one keeping them happy, and as the mattress itself is sealed, it can be safely washed separately for complete cleanliness. Not only do the mattresses protect against allergens and microbes, but the Ellergenic Shield and the Wellbeing outer cover meet the stringent requirements of Oeko-Tex Standard 100, Class One and has the Allergy UK seal of approval.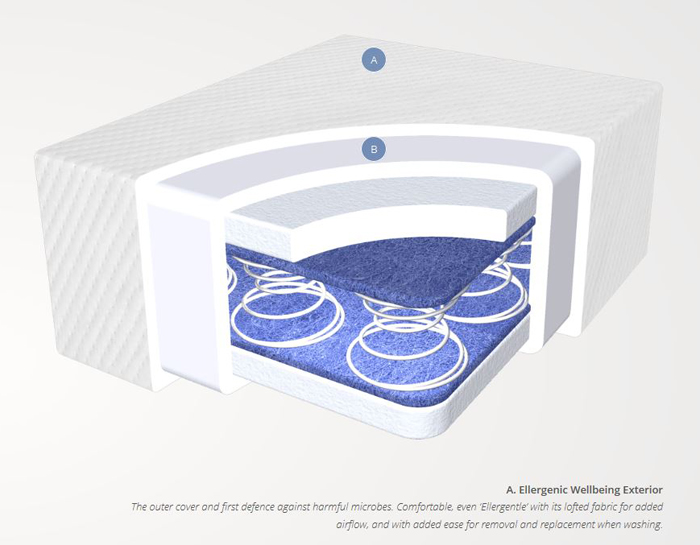 The Science of Safer Sleeping
Mattress experts Kit for Kids Baby pride themselves on making the safest cot mattress possible, designed by some of the foremost experts in this field, and while the causes of Sudden Infant Death Syndrome (SIDS) aren't fully understood it has been suggested that pathogens such as Staphylococcus Aureus and Escherichia Coli may play a part in some cases. With this in mind the Ellergenic Shield is treated with silver ions which restrict the propagation of these pathogens.
Two designs are available Ellergenic Spring Mattress & Ellergenic Dual Core, and stockists include: Babies R Us, Precious Little Ones and Mothercare. Available from June 2014, RRP in the region of £189. For more information on Ellergenic mattresses and a full list of stockists visit www.ellergenic.com
Kit for Kids Baby donate £2 from the sale of every Ellergenics mattress to The Lullaby Trust charity towards their invaluable work in researching and support.


Related Articles
Have Your Say
Be the first person to comment on this article, just post a comment below.