Toddler
Health
Milton Reveals new research
Milton's new research has found that 89% of babies dummies are contaminated with bacteria
Milton has revealed the results of a new study which examined just how clean babies dummies really are. They worked with Queen Mary University of London laboratory, and the results found that;
9 out of 10 dummies were contaminated with harmful bacteria.
1 in 5 were found to be grossly or heavily contaminated.
Dummies in soft play areas and on the kitchen floor are most contaminated, and the least bacteria was found on dummies dropped on the pavement and kept in changing bags.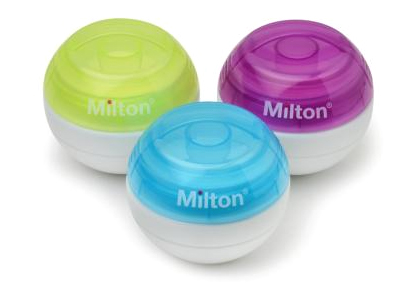 The tests were run on a sample of 70 dummies both in use by children and new ones dropped in a range of different places to see the types and numbers of germs babies are exposed to on a daily basis*. It was found that the least contamination was found on dummies dropped on the pavement and in changing bags, with the most germ filled being those dropped in soft play centre's or on the kitchen floor!
Tess Clarke, of Milton said, "It's astonishing how quickly soothers can contract a worrying number of harmful germs. Busy mums don't need to fret, just by following simple hygiene routines, such as washing your hands and sterilisation can help keep everyone safe. For soothers in particular, the Milton Mini is a portable system that sterilise soothers in just 15 minutes, perfect for mums on the go."
Dr Ronald Cutler who headed the research added: "The good news is most mothers are following great hygiene practises. Our research showed a minority of the sample soothers showed a heavy or gross contamination when dropped. When these practices are not maintained, soothers can become contaminated with very high levels of organisms which could cause stomach upsets".
For more information on MIlton and their productsincluding the Milton Mini visit www.milton-tm.com
* 44 soothers were used and 26 were new.
Have Your Say
Be the first person to comment on this article, just post a comment below.