Change
Current Location:
SW1W 8EL
SASS, pH Balanced Serum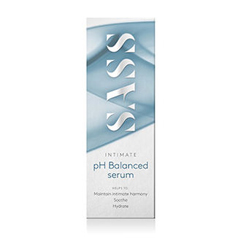 RRP: £12.00

This pH Balanced Serum has been formulated to help cool, soothe and restore the your pH. Gently apply the serum in and around the area once or twice a day until you feel like you are back to your best.
Suitable to use during pregnancy and menstruation.
Reviews
Reviews in chronological order (Total 1 comments)
Rating: 9.0 / 10

lilliesmum


19 Jun 2015 12:31pm




I have to say when I was asked to test the new Sass products, I was a bit sceptical as to what these new intimate products would do for me, but I was pleasantly surprised when I received the package. I like the style of the packaging, and wouldn't feel embarrassed with anyone finding one of the discreet little bottles in my handbag - they had the look and feel of slightly expensive cosmetics. I used the serum on a few occasions, and I found that it did relieve symptoms I had. All the products had a pleasant smell and consistency, and didn't feel overly sticky or heavily perfumes - which I don't find appealing at all with products of this type.
Quick Links:
,
Baby perfumes
,
Baby Wipes
,
Balms
,
Bathing
,
First Aid
,
Moisturisers
,
Nappy Creams
,
Pregnancy Stretch Creams & Oils
,
Sanitisers
,
Sun lotion
,
Skincare