Change
Current Location:
SW1W 8EL
Ecohydra, Antibacterial Hand Sanitiser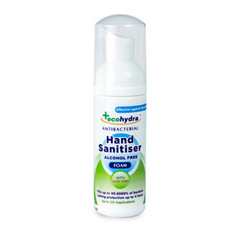 RRP: £2.99

It has been acknowledged that bad hand hygiene is one of the causes for germs and bugs being easily passed from person to person (or child to child at school). The Ecohydra - Alcohol-Free Instant Foam Hand Sanitiser, approved by NHS, is ideal for parents and children alike to use on the go or at home.
This highly effective foaming sanitiser (known to kill 99.9999% of germs), is highly effective despite being alcohol free and is up to 1000x more effective at killing germs than the typical high street product. Kind to the skin, it maintains the natural pH to keep skin supple and hygienic with added Aloe Vera.
Plus the compact 50ml size makes hang luggage compliant.
Reviews
Reviews in chronological order (Total 1 comments)
Rating: 0.0 / 10

lilliesmum


9 Jan 2015 6:02pm




This sanitiser was ideal for my handbag when out an about. I've used gel sanitisers in the past and don't really like the way my hands felt slimly afterwards so I never really carried one with me, this one was, the foam rubs right into the skin, and it has a very delicate (almost not there) fragrance. I get the bus and tube quite often, so this was ideal for me to use after I get into work, and I either keep it in my bag or desk draw. The price is pretty good too, I would definitely recommend this to a friend, it's a great idea having a foam instead of a gel.
Quick Links:
,
Baby perfumes
,
Baby Wipes
,
Balms
,
Bathing
,
First Aid
,
Moisturisers
,
Nappy Creams
,
Pregnancy Stretch Creams & Oils
,
Sanitisers
,
Sun lotion