Change
Current Location:
SW1W 8EL
Purepotions, Skin Salvation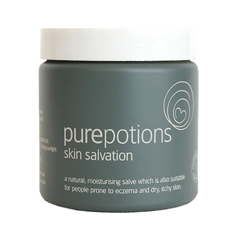 RRP: £7.99

The award winning products for dry skin problems are also suitable for people prone to eczema, psoriasis, dermatitis and red, itchy rashes.
No Parabens. No Preservatives. No Perfumes. No Problems.
Skin Salvation forms a semi-occlusive barrier which protects the skin from external irritants.
It nourishes, hydrates and delivers essential fatty acids to dry, irritated areas.
Also suitable for those prone to eczema, psoriasis, dermatitis, skin rash and any sore skin condition.
Suitable for all ages.
100% natural.
Free from harmful chemicals.
Reviews
Be the first person to review this product, just add a review below.
Quick Links:
,
Baby perfumes
,
Baby Wipes
,
Balms
,
Bathing
,
First Aid
,
Moisturisers
,
Nappy Creams
,
Pregnancy Stretch Creams & Oils
,
Sanitisers
,
Sun lotion