Change
Current Location:
SW1W 8EL
Outnabout, Nipper Sport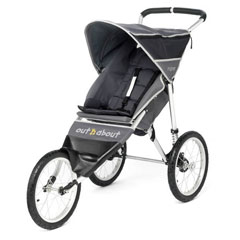 RRP: £230.00
Weight: 7.5kg
Folded cms: 92 x 61 x 59

The Outnabout Nipper sport has large 16" wheelswhich allows you to travel over all terrains quickly and easily. Designed to meet the needs of parents who wish to use their buggy 'off road' or while jogging. The large wheels will easily tackle rough terrain, sand or gravel while the independent rear suspension will ensure a comfortable ride for the baby or child. The front wheel is fixed making it possible to guide the buggy with one hand without the constant need of correction. When changing direction the front wheel is gently lifted from the ground, the child's weight is towards the rear of the buggy making this easy and comfortable to do. The three large wheels are fitted with a quick release system making it possible to reduce the folded size easily. The seat unit is suitable from birth, although it is recommended that a Tiny Traveller is added to ensure baby is secure in the 5 point harness and adding to the head support.
Reviews
Be the first person to review this product, just add a review below.