Change
Current Location:
SW1W 8EL
Baby Jogger, Performance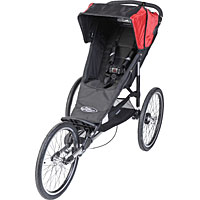 RRP: £350.00
Weight: 11kg

Great lightweight 3-wheeler pushchair with 21" pneumatic wheels (quick to release) so good over rough terrain or going fast on the flat. The seat is comfortably suspended creating a really smooth ride and it can recline. The hood has a clear section so you can see whether everthing is OK up front.
Reviews
Be the first person to review this product, just add a review below.