Change
Current Location:
SW1W 8EL
Bebe Confort, Loola Up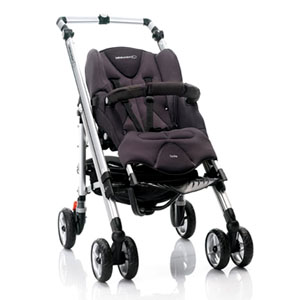 RRP: £295.00
Weight: 6kg
Folded cm: 92 x 30 x 26
Extras: Hood, raincover, car seat adapters

As compact as the original Bebe Confort Loola, and as easy to fold and unfold, Loola Up is a new design with a one-piece handle that makes it easier to get around town. The seat can be forward or rear facing and when folded, is really compact. The swivel wheels are lockable and is very nippy when out shopping.
Reviews
Reviews in chronological order (Total 1 comments)
Rating: 9.0 / 10

kvc1313, Mother of 2, Surrey


10 Mar 2010 8:22pm




I brought this buggy when pregnant with my second baby, and I must say i'm delighted with it. It's lightweight but sturdy enough for a buggy board so my 3 year old can jump on when we are out. My 4 month old is comfy and is content to sleep happily in this, the varying positions are great, and I love the fact the baby can face you, but still see loads around them. It folds up quickly and is compact enough to fit in my little Yaris with ease. A great buy!!