Change
Current Location:
SW1W 8EL
iCandy, Apple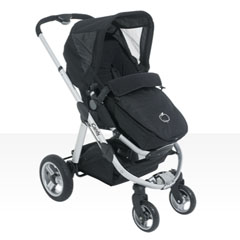 RRP: £400.00
Weight: 12.9kg
Folded cms: 91h x 61w x 34d
Suitable from : Birth (with carrycot), Seat unit from 6mths+

The iCandy Apple is available in a 4 wheel or all terrain 3 wheel jogger option - with swivelling or front locked modes (the 3 wheel jogger is slightly more expensive at £430). The large rear wheels are air-filled for a smooth ride and come off with a quick release mechanism. The chassis is made from a lightweight aluminium and is easy to fold. Both chassis styles support a carrycot (£155), seat unit (rear or forward facing), Maxi-Cosi car seat (with £30 adapters).
Both styles come in a delicious range of colour flavours: blackcurrant, redcurrant, grape, imperial and mandarin. Accessories include luxury fleece footmuff, changing bag, sun parasol, travel bag and cup holder.
Reviews
Reviews in chronological order (Total 3 comments)
Rating: 8.5 / 10

loving33, Mother of 2, East Sussex


18 Jun 2010 10:37pm


The icandy apple comes as either a four wheeled or three wheel stroller designed to be used from birth with the matching carry cot. The quality and finish is clear at first glance, the fabrics are either ultra soft for the contact areas or really rugged where need, such as the foot support. The frame is made of durable satin finish aluminium, the axles and wheel supports seem incredibly durable, tyres are solid at the front with inflatable tyres on the rear. I know there seems to be a love/hate relationship with pneumatic tyres but I've not had an issues myself and they have proved ideal for the walking we do. As with our bike tyres I pump them up approx every 3 months and that makes the pushing quite light work. The seat faces either forward or rearward and can be changed in a few moments; the basket carry's everything we need including the extra non baby items we don't want to carry. The colour of the stroller can be changed as these are 5 colours available separately. The next part is unique; this already ideal stroller can be upgraded to a double (tandem), this they call the pear. When our second child arrived we had bought the kit and had tried it out already. The kit comes with: a set of bars designed to accept 2 seat units, these come with it as do a wider set of wheels for the front of the stroller. At first we used the main seat unit with our first child and either the carry cot or the maxi cosi car seat for our new arrival, but as he out grew the cot this was changed into the second seat unit. At this stage we could still chose whether we wanted both boys to face us or forward, I have to say we seemed to get on well facing forward from day one so we never changed; I've met mums since who have always had their two facing her. Clearly the stroller is larger in the double form but with the right demo, and a little practice this folds into a size only slightly larger than the single as all the parts "spoon" together when stacked. It fits in our Ford Focus boot OK if there little else in there. The stroller is heavier with the 2 boys and the extra parts but not as much as I had expected. We still cover the same walks as before with little effort although the boys are getting heavier each month. One unexpected advantage was the use of the handle bar, the apple (and hence also the pear) has a handle bar that seems to reach higher than any other. When extended this greatly eases the effort needed to go up curbs, steps or even over rougher ground. By the end of the year we expect to convert the stroller back to a single as Ben will be walking most of the time, I'll get a buggy board before then. This was a great choice and we've no regrets so far. Oh we lost the pump that comes with the stroller but it's just a standard cycle pump so in fact we found it easier to use the larger cycle pumps we already had.

Rating: 9.0 / 10

Irene3, Mother of 2, Guernsey


16 Jun 2010 7:28pm


We had looked at Phils and Teds, Buggaboo, stokke, Mutsey and every pram we could for months before settling on the apple. Had to wait a few weeks for John Lewis to get the colour we wanted. We collected from the store where the pram was set up for us, we already had the maxi cosi car seat so we attached this in the pram and went away, although we had to carry the seat to the car. Pushing is wonderful, even though we had spent a lot of time in the store looking at prams hadn't pushed the apple that far before, it pushes and steers beautifully, one handed when necessary, the handle lifts really high so in ideal for both of us. It's nicely made and looks so good, we've seen a few of the others we considered about but don't ever feel we should have bought a different brand. Good product, fair price but really good value, upgrades to a tandem also.

Rating: 9.0 / 10

Abi, Mother of 2, Oxfordshire


31 Mar 2010 11:02pm




I live in the middle of town and use my iCandy Apple (4 wheel version) everyday for the past 6 months and love it! It is very easy to push with swivelling front wheels (these also lock for use on rough terrain - I tried this out on the Ridgeway and found it coped surprisingly well!) and large air filled back wheels. It is easy to collapse and not too heavy to lift into the car. The adjustable handle is great as my husband and I are both tall and being able to extend the handle allows us to push it comfortably without having to stoop. The carrycot is a nice size offering plenty of growing space - my baby also slept in it at night, until he moved into his cot. He moved into the seat attachment about a month ago and loves it! It is nice and comfortable with a 5-point safety harness, 3 seat positions, and can be placed facing forwards or backwards. The shopping basket underneath is also a good size. The system is compatible with the MaxiCosi car seat with a set of adapters which are very easy to use. Part of the reason we chose the Apple is that we hope to have another baby in the near future and this system can be upgraded to the iCandy Pear with the purchase of a converter kit. This allows different combinations for carrying a baby and a toddler together (carrycot and toddler seat, car seat and toddler seat, 2 toddler seats...). The downside is that is not the most compact travel system on the market and if you have a small car, you may want to look at one of the smaller models. However, if you have the space and are looking for a study, well-built travel system I would definately recommend the iCandy Apple.