Change
Current Location:
SW1W 8EL
Britax, B-Smart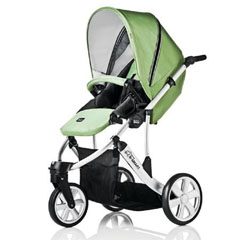 RRP: £299.99
Weight: 11.7kg
Folded cms: 44h x 93d x 62w
Suitable from : Birth - 15kg
Visit Website

The Britax B-Smart is a great pram/pushchair combination offering a completely lie-flat solution for newborns (plus the option of a separate carrycot if necessary) and then converting into a pushchair from when your baby can sit upright. The chassis has a 3 or 4 wheel option and you can "clip" any of the Britax car seats to the frame easily making it an ideal travel system. The B-Smart offers good suspension making a smooth ride over a variety of surfaces - as well as puncture resistant tyres. Large and spacious shopping/baby kit basket too. Folds up well too which helps if you've got a small boot.
Reviews
Reviews in chronological order (Total 1 comments)
Rating: 7.5 / 10

Tidgymum, Mother of 1, Hertfordshire


30 Jan 2011 10:10pm


I have been using the 3 wheel option travel system using the carrycot and car seat since E was born for walking the dog and shopping. I have not yet used the main seat and so cannot comment about that part yet. I am very happy with it overall and would recommed it. PROS: - Cheaper than most 3 wheel travel systems. (There is no suspension but this does not bother baby and she sleeps regardless.) - Folds and unfolds easily and can fit in a family car boot (The wheels are removable so making it easier to fit in.) - Car seat, main seat and carrycot all exceptionally easy to put on and remove from frame. - Is sturdy enough but not too heavy with all elements made for common sense adjustment and ease of use. - Car seat can come with a fixed car base which I find is wonderful for quick and safe use. CONS: (None of which put me off too much!) - Wheel attachements and car seat attaching mechanism need lubricating from time to time, particularly the wheels if getting wet and muddy often. - Single hand release car seat is misleading as only my husband can actually lift it off with one hand. Little 5"2 me has to use two hands. - Shopping basket is too low at the back and things fall out when going up kerbs! It also has a habit of collecting twigs and leaves that are deposited by the high level wheels!