Change
Current Location:
SW1W 8EL
Snoozeshade, Pram Blackout Blind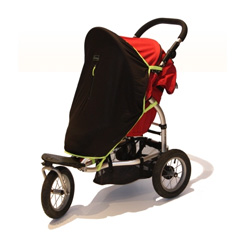 RRP: £19.99

The SnoozeShade is a blackout for prams, carrycots, pushchairs and buggies. Created by a British mother to help babies and toddlers sleep in their pram or pushchair, it takes away the inconvenience of trying to peg muslin or a blanket over the front of your pram to allow your baby to sleep whilst your out.
It has an elasticated top and sides with Velcro straps, so fits easily to most models of pram and pushchairs.
It also fits under most rain covers, and protects babies from the sun - UPF50+.
Reviews
Reviews in chronological order (Total 1 comments)
Rating: 9.0 / 10

skyler


17 Mar 2011 5:21pm




have been out lots of times with the snoozeshade , easy to put on our Icandy Peach pram due to the velcro straps and helps make the baby sleep while out , before we would lay a baby blanket over the top to shade baby but the blanket would fly in the wind , great product , would be nice if it came in other dark colors .