Change
Current Location:
SW1W 8EL
Maclaren, Twin Techno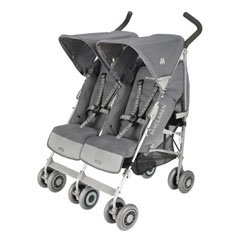 RRP: £270.00
Weight: 12.2kg

The ever popular Twin Techno has independently reclining seats, hoods with UV protective viewing windows and sun visors and come with head huggers, shoulder straps and aprons. The latest models also come with new elasticated pockets in the hood to hold the rain cover and mosquito nets, plus reflective strips so you can be seen at night. You can also buy accessories such as a sun parasol, footmuffs, carry bag, reversible seat liners and an organiser which fits between the handles.
Reviews
Be the first person to review this product, just add a review below.