Change
Current Location:
SW1W 8EL
iCandy, Peach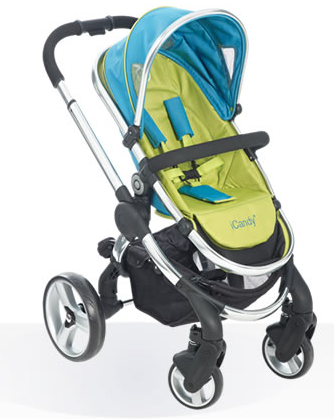 Weight with wheels: 10kgs
Visit Website

Most pushchair and pram combinations at the higher end of the market now tick all the boxes in terms of being easy to fold, store and adjust for different uses. They usually even have some cute extras. But for your baby's first walk about town, what parent wouldn't want a little bit of wow factor? We feel the iCandy Peach, with it's confident maneuverability, comfortable carrycot and seat options, and range of stylish finishes is a real winner.
The iCandy Peach is made from lightweight aluminium chassis, it has a luxuriously large shopping basket and flexible front and rear facing modes, truly distinguishes itself as an urban baby chariot that can take on the countryside too. (Plus the special London edition out-Bugaboos Bugaboo for contemporary cool!)
Reviews
Reviews in chronological order (Total 1 comments)
Rating: 8.0 / 10

kct231, Mother of 2, Essex


4 Sep 2012 12:37pm


Peach-y Beach-y Summer As we weren't going on holiday this year due to the Olympics we went on day trips here and there in between the rain showers and working as well. These were mainly to the beach so there was no doubt about it the Peach Jogger was the pram for the job. The air tyres make it such a smooth ride over the beach it did better on damper sand then on totally dry as I found the front wheel got stuck a couple of times but nothing major like you would expect from a small buggy. Whenever I go on the beach I always have my front wheel locked this way it stops the Peach swivelling so much and it takes a second to do! The basket underneath holds everything you would need for a trip to the beach. In ours we had a picnic for 4, picnic blanket, change bag, towels, palm shade, raincover (just incase) and of course no beach trip would be complete without buckets and spades!!! The hood is big and you can adjust it to wherever you want it so great for keeping the sun out LO's eyes. When LO was sleeping the palm shade was great for all over protection from the sun and making it dark and cool too. My LO is 18 months now so we try and get her walking a bit more so she did spend more time out of the Peach than in it. After our trips to the beach I always clean up my Peach as we all know sand gets EVERYWHERE. The easy release wheels are great; pop off-clean-pop back on; as easy as it sounds!