Change
Current Location:
SW1W 8EL
Maclaren, Triumph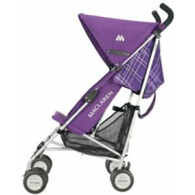 RRP: £115.00
Weight: 5.2kg
Extras: Raincover
Suitable from: 3 months
Visit Website

The Maclaren Triumph is a light weight buggy ideal for bus travel, air travel or city use and is suitable from 3 months. It has an easy action umbrella fold mechanism, foot operated brake and a generous shopping basket given its compact size. This model comes in a range of 6 colours and you can purchase additional reversible seat liners.
Reviews
Reviews in chronological order (Total 1 comments)
Rating: 10.0 / 10

Laylah's Mammy,mother of 1 , Durham


1 Nov 2011 6:57pm




I love my Mac it's really light and compact it has the pattented five second fold and a handy carry strap so I can easily fold it to get on a bus. The harness is fantastic it's totally child proof. I have had umbrella strollers before and they were not in the same league as this buggy. Some people fins the handles a little too low but as a shrter family it's the perfect height for us and the low seat allows me to see what my daughter is doing with out stopping. The seat itself is really deep and comfortable which has been an isssue with other buggues in the past. This buggy steers so easily I can steer with one hand while holding my Daughters hand without any problems at all. A fantastic product!