Change
Current Location:
SW1W 8EL
Maxi-Cosi, FeroFix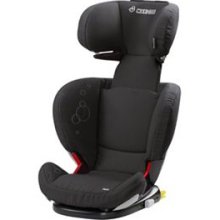 RRP: £175.00
Age : 3.5 years-12 years
Weight: 15-36kgs
Visit Website

As your child gets older, the arguments of, 'Do I really still need a car seat?' will become more frequent. The FeroFix, with its sporty design and excellent support for your child (even when he or she has fallen asleep on long, 'booor-ing' drives) should put paid to those disputes.
Other details which encouraged our judges to deem it 'practically perfect' include the patented AirProtect side impact protection in the headrest, as well as side impact protection for the lower back and hips. The FeroFix also has easily adjustable recline action which allows you to fit it suited to whatever angle your car seats are set at. All this, plus easy to thread seat belt routing and easy glide action when you want to make a quick getaway.
Reviews
Be the first person to review this product, just add a review below.